Major news outlets around the world have been reporting on the murder of Duarte
The gruesome murder of 21-year-old Willy Monteiro Duarte from the tiny island of Cape Verde in Central Africa, has caught the attention of the world. Major news outlets around the world have been reporting on the murder of Duarte by some Italians in Colleferro, a provincial town in Rome. Duarte was visiting a friend there from his own town of Paliano when he was attacked by two brothers Gabriele and Marco Bianchi, as well as Mario Pincarelli and Francesco Belleggia.
Reports indicate that the African was trying to protect his friend from the brutality of the four when they descended on him. An eye witness told the prosecuting judge that they fell Duarte with punches and kicks. While down they didn't relent, "they kept unleashing kicks and punches, and he was unable to get back up."
Another witness told the judge, "I have a vivid memory of a couple of them, I don't remember who precisely, who were actually jumping up and down on Willy's helpless body on the ground."
The four suspects are being detained at Rebibbia Prison in Rome while a fifth man is under house arrest. They have been charged with manslaughter which sources say could change to murder charges in the coming days. The five drove from the nearby town of Artena to kill their victim. Investigators are already looking into the racial element in the killing.
Italy has become the hotbed of racial attacks in recent years against migrants, especially Africans since Matteo Salvini and his far right League, which hitherto now was a mere provincial party found itself on the national stage. Salvini has continued to fan the embers of hate, reminding Italians that foreigners are their problems.
Several Nigerians in Italy have had one sad story of racial attack to tell in the last couple of years. "It is not uncommon to walk on Italian streets and be called "sporco negro" (dirty black). Racism is real in Italy as could be seen in the brutal murder of Willy Duarte," one African who spoke on the incident told AfroLife.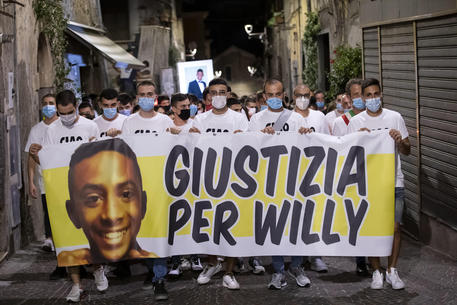 Protest for Willy Duarte to demand justice for his grusome murder