The Bianchi brothers are trending on the social media for the suspected killing of Willy
These are the faces of the leading suspects in the murder of Willy Monteiro Duarte. They are Gbariele and Marco Bianchi. The two along with a third suspect, Mario Pincarelli, are being held at the Rebibbia Prison in Rome. A fourth suspect Francesco Belleggia has been released to house arrest.
The three suspects through their lawyers have applied to the authorities to remain in solitary confinement at the prison because of fear of reprisal attacks from other inmates. According to the lawyers, the echo of Willy's brutal murder reached the prison before the arrival of the trio.
On social media there have been threats to the Bianchi brothers, who have been described as bullies and street fighters. The brothers who live flamboyant lifestyle not compatible with their legitimate earnings, were accused by the fourth suspect Francesco Belleggia of punching and kicking Willy while on the ground.
Willy Monteiro Duarte was buried over the weekend in Paliano. The funeral was attended by Italian Prime Minister Giuseppe Conte, who promised that the killer of the African would be severely punished. Also in attendance was the leader of the Italian Democratic Party, PD, and Governor of Lazio Region, Nicola Zingaretti, who promised Willy's parents that the regional government would foot their legal bill.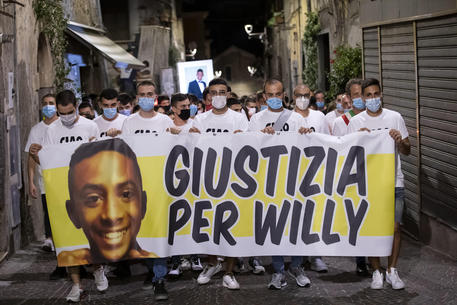 Willy Duarte's death has caused outrage in Italy