During the championship fight in Avellino
28-year-old Pamela Noutcho Sawa, a Cameroonian has been crowned Italian national welterweight boxing champion at a championship fight in Avelino on Sunday night. Pamela who studied nursing at the University of Bologna, works in the emergency unit of the Maggiore Hospital in Bologna.
Pamela came to Italy with her parents when she was just eight years old and only started boxing about four years ago. She took up boxing by pure chance when a training session was organised at a centre for homeless people in the city in 2015. The centre had a gym.
"They organised a boxing course, I enrolled and I've never look back since," declared Pamela.
The champion has managed to combine her day job as an emergency nurse even during the COVID-19 restrictions. She has been having her trainings remotely and attending her duties during emergencies at the hospital.
Pamela who hopes to join the league of legendary boxers who fought in Las Vegas said, "it takes the same thing to be a nurse and to do boxing: concentration, courage and being able to face, each time, a different opponent, finding solutions to make the patient get better or to win a match."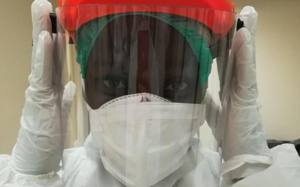 Pamela on duty at the Maggiore Hospital in Bologna