Ousseynou Sy to spend 24 years behind bars
I accuse Matteo Salvini ( far right anti-immigration League leader who was Deputy Premier and Interior Minister at the time of the hijacking) and his government of genocide and crimes against humanity
47-year-old Ousseynou Sy, a Senegalese Italian, has been handed a 24 years jail term for hijacking and setting on fire a school bus with 50 children, two teachers and a janitor near Milan in March 2019. Ousseynou Sy was found guilty of attempted murder and given the lengthy term which prosecutors had requested.
Before the ruling, medical experts told the court that Ousseynou Sy had his mental faculties in the right place when he committed the crime. The 47-year-old had told the court he was neither a killer nor a terrorist despite his apparent attempt to kill the occupants of the bus.
"I am neither a killer nor a terrorist and I hope justice will be done also for us Africans," he said, pointing out that, "I am also a son of Africa, the Africa that you know very well, that has seen its sons deprived of human dignity, of any right to serenity, of happiness, even today. As an Italian citizen and an African, I accuse Matteo Salvini ( far right anti-immigration League leader who was Deputy Premier and Interior Minister at the time of the hijacking) and his government of geneocide and crimes against humanity."
   
He argued that Salvini had condemned many migrants to death and torture by blocking Italian ports to NGO run rescue ships. On the day of the incident in March last year, Ousseynou Sy got off the bus after it was stopped by police, who were alerted by pupils on board. He had just set it alight but the Carabinieri managed to get the children out by smashing windows at the rear.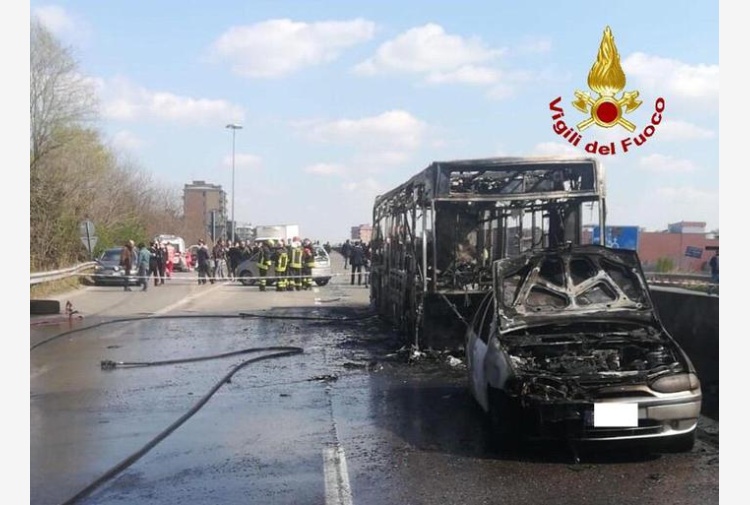 Scene of the incident in March 2019