Ambassador Omini Mfawa Abam settled down to work since presenting letters of credence to President Sergio Mattarella last week
Nigerians in Italy have been described as hardworking people. Ambassador Omini Mfawa Abam made the assertion in a chat with AfroLife days after he presented his letters of credence to the President of Italy Sergio Mattarella. According to the Ambassador, "we are generally hardworking people, very resilient people.
In order to maintain these character traits he said every Nigerian residing in the country must engage himself or herself with something meaningful. While noting that some may have vied off the way, he encourages such people "to get down to work, look for legitimate business to do and then obey the laws of the land."
He expressed optimism that if every compatriot in the country work together the image of Nigeria would get a boost and be highly lifted in Italy. "We don't have to be divided we must continue to unite that is the only way we can make progress," he stated.

He insisted that having presented his letters of credence, he wants to hit the ground running as he acknowledged the enormous task before him which AfroLife correspondent listed to include immigration matters, image problems, engagement with the Italian authorities as well as the welfare of Nigerians in the country among others.
Within days of his arrival in Italy on May 21, Ambassador Abam organised a reception for the Nigerian Community where he eulogised the outstanding qualities of his compatriots. He promised to work with them, adding that his office is always opened to them.
In his address on the occasion, the President of the Nigerian Community, Mr Rowland Anyaehiechuukwu Ndukuba stated that "we are more than 120,000 Nigerians living here," noting the many opportunities that are bound in Italy.
"We only need to explore these opportunities and use them efficiently for the well being of every Nigerian and also for the development of our beloved nation." Nigeria in the Diaspora Organisation, NIDO, was also represented at the event.

At a reception for the members of the diplomatic corps and the Italian establishment, Ambassador Abam used the occasion to underline the strong bond between the Italian Republic and Nigeria. That bond was captured in a poem composed for and rendered at the occasion by 14-year-old Zikora Udeozo.
His Excellency Omini Mfawa is Ambassador plenipotentiary, the second career diplomat to take the reins at the Embassy of Nigeria in Rome since it was opened soon after Nigeria's independence. Ambassador Gabriel Akuwanfor was the first career diplomat to be posted to Italy as an Ambassador in the late 1990s.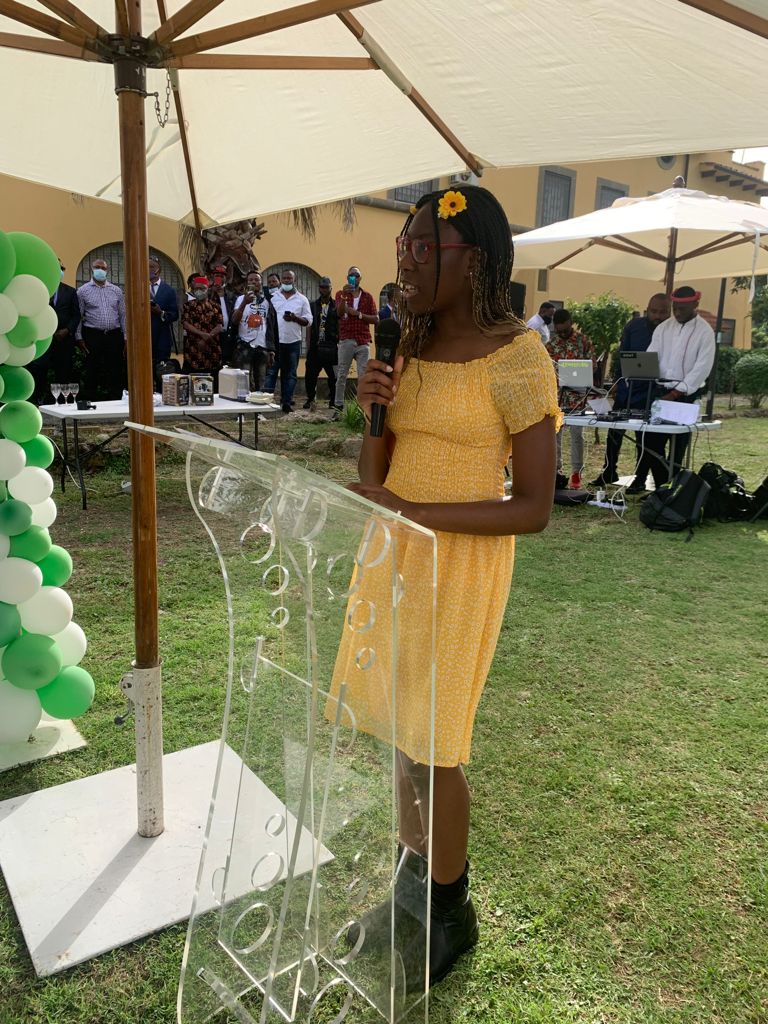 14-year-old Zikora Udeozo renders a moving poem which captures the bond between Italy and Nigeria (photographed by Ben Ndukuba)