Worship service at the RBC on July 5
Six weeks on since the lifting of the restriction on Church services in Italy due to the COVID-19 pandemic, Churches in the country have had uninterrupted services without any reported case of the virus. Awareness is high, everyone is proactive, discipline among worshippers has buried the fear of Corona Virus.
On July 5, AfroLife publisher Mr Dan Ekhator and his family worshipped at the Rome Baptist Church, RBC, and saw first hand the orderliness in the application of the laid down protocols. "Sunday worship service in Rome never been better," remarked Ekhator.
The Church of over two hundred members has had to staggered services to ensure strict adherence to the guideline that recommends admission of not more than 50 worshippers at a time. The sitting arrangements have changed. Pew benches that usually accommodate four persons now sit two persons each. Families from the same household who are more than two in number can sit together.
Worshippers are encouraged to book their attendance in advance. In addition to social distancing in sitting arrangements, face masks are mandatory throughout the duration of the service. As you approach the sanctuary ushers are on hand to apply sanitiser to your hands while another leads you to your reserved seat.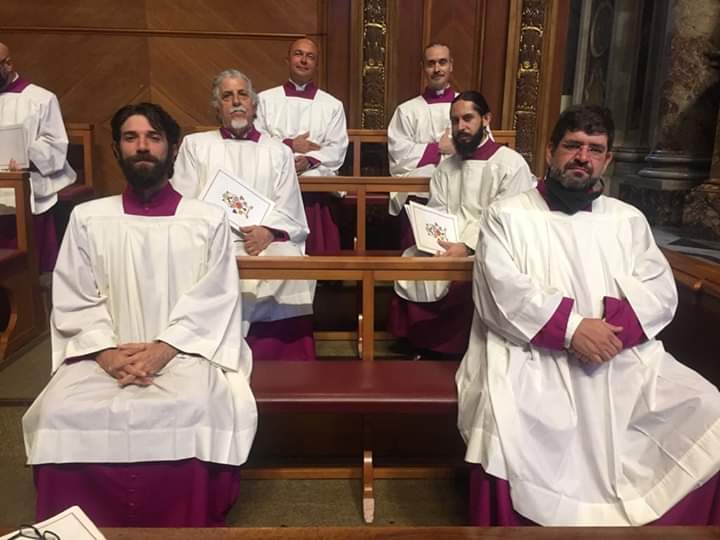 Social distancing in practice during Church service at St Peters Basilica (Vatican) July 5
The whole congregation sing together from the projector in the place of hymns. No pew Bibles, texts are screened on projector but worshippers are encouraged to read from their own Bible be it on their phones or tablets. The collection plates that ushers usually pass around have been replaced by a single collection box where worshippers drop their offerings as they made their way out. The entrance and exit routes are well marked.
On this Sunday, the Minister in charge, Pastor David Hodgdon, intermittently reminds the worshippers about the uncertain times and stresses the need to follow laid down guidelines. He keeps the service to the point and ensure everything is wrapped up in an hour. The government guideline is against lengthy services. The atmosphere in Church is very serene and welcoming.
As the service is winding down, Pastor Hodgdon comes down from the pulpit to do the announcement and invoke benediction. He goes to the main entrance (wide enough for distancing) to greet the brethren on their way out. The worshippers with awareness in hindsight, maintaining social distancing, indulge themselves in fellowship in the open space outside. With all the safety measures observed It is not surprising that there have been no reported outbreak in the Churches here of the Corona Virus.