Young girls were his preferred targets
33-year-old Osazee Obasohan is among the lucky ones who made the hazardous journey on inflated boats to Italy. The moment he settled down in the country he embarked on erecting structures to start trafficking in human beings. Young girls were his preferred targets.
While Osazee set up his base in Messina, Southern Italy, his network of collaborators stretched up north to such places as Verona, Novara and Cuneo. The 33-year-old trafficked young girls out of Nigeria with the sole aim of putting them into prostitution.
Recently, AfroLife debunked the claim of Governor Godwin Obaseki of Edo State, Nigeria, that he had effectively dealt with the problem of human trafficking from his state. Osazee and his collaborators are from Edo State. Majority of the young girls he had succeeded in trafficking into the country are from Obaseki's state.
Osazee's unique style of operation is what caught the attention of security operatives in Italy. He apply the carrot and stick strategy to deal with his victims. When Osazee was arrested last month along with 13 others across Italy, it was discovered that no fewer than 15 young girls have been subjected to his slave driving approach.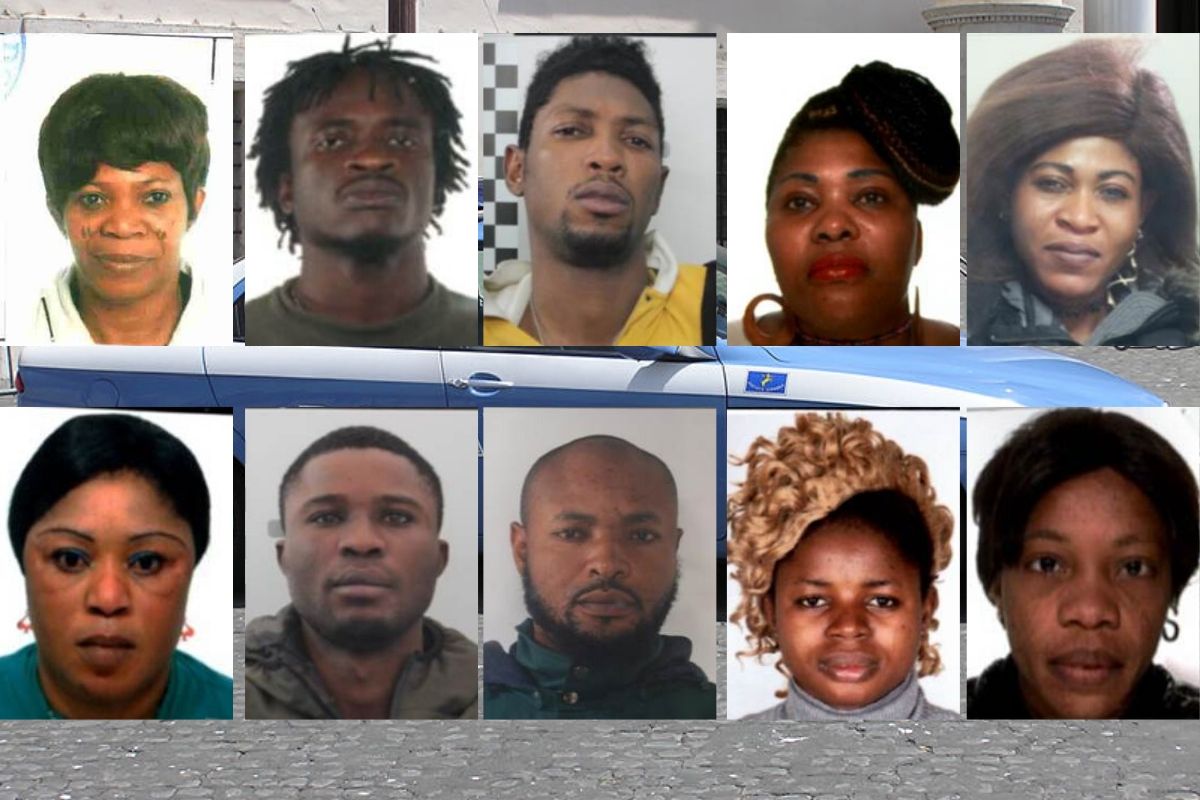 Some of the suspects arrested along with Osazee
The young girl who blew the whistle on Osazee's activities, was trafficked into the country in 2017. The young Nigerian woman arrived in the port of Catania in April 2017 together with 433 other people on board the ship "Aquarius" of the NGO SOS Mediterranée.
Osazee had approached this girl with the proposal to facilitate her trip to Italy where he would put her into legitimate work to offset only the cost of her trip. As soon as the "Aquarius" berthed and the coast was clear, Osazee ferried the young girl to his home in Messina. The girl resisted the idea that she would have to pay a whooping €25,000 as cost for the trip. She thought it all a joke until she found herself on the street prostituting after Osazee had applied the stick.
When the bubble burst on him in June, the following people were arrested along with Osazee; 32-year-old James Arasomwan arrested in Messina; 29-year-old Malcom Benson, arrested in Messina; Tessy William, 29, arrested in Novara; 26-year-old Evelyn Oghogho, arrested in Novara; 39-year-old Faith Ekairia, arrested in Verona; 42-year-old Joy Nosa arrested in Verona; Nelson Ogbeiwi, 36-years-old arrested in Verona; Belinda John, 40, arrested in Caltanissetta and Rita Aiwuyo, 48, arrested in Mondovì (Cuneo). 
AfroLife learnt that investigators were able to trace the cash handle by Osazee and his gang, putting the figure at €1.2million.