He is more cunning than the normal fraudster
He is young, charming and readily comes through as a smart guy. But beneath the charm is a deceptive mind, seared and devoid of compassion. He is more cunning than the normal fraudster. He wore innocence as a badge of honour while ruthlessly dealing with his victims. At 32 years of age, Okeke's reach in the world was already a focal point. In the Nigerian circuit he was celebrated and touted as a rising star in the mould of business mogul Aliko Dangote. His fame thrust him upon the world stage, and he did dance, having pep talks with the high and mighty, he addressed the TED Global Community and Forbes magazine featured him as one of the "world's most influential young entrepreneurs."
All that glitters is not gold, Okeke's false life came crashing down in August 2019. He had visited the United States and was on his way back to Nigeria when he was arrested at one of Washington's airports, and a two-count charge of committing computer and wire fraud were slammed on him. Okeke wouldn't be intimidated by those charges, not even on US soil. His ruthlessly mien was on display as he vehemently denied the charges. He hired a Nigerian lawyer to argue his case. And trust a Nigerian lawyer, who is now adept in using technicalities to suffocate the justice system at home, the lawyer, Mr. John Iweanoge argued that the US court has no jurisdiction in trying his client since the alleged crime was committed in Nigeria.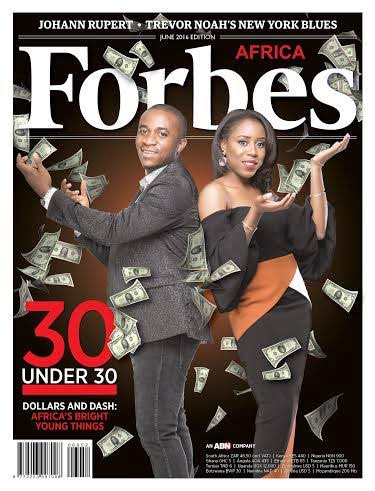 Forbes celebrated Obinwanne Okeke as one of the world's most influential young entrepreneurs
The case the US authorities had expected to dispatch off expeditiously dragged through 2019 into this year. After all the stalling and months of denying he committed the crime, in April Iweanoge and his client saw the writing on the wall and agreed to cooperate. On June 18, 2020, Okeke finally pleaded guilty to a wire theft of $11 million. The overwhelming evidence according to court papers informed Okeke's decision to throw in the towel. The Federal Bureau of Investigation, FBI, notes that Okeke ran a syndicate which included persons now at large. The FBI contended that Okeke and his syndicate had defrauded Americans and American companies over a period of four years before he was apprehended. According to the FBI, the $11 million was just one single fraud act by the syndicate through which they defrauded an American heavy equipment manufacturing company.
The deal Okeke struck with the authorities in the US before agreeing to cooperate with them entails that a second charge of computer fraud was dropped and his request for immunity against prosecution on the same matter in the US District of Virginia granted. Okeke is expected to be sentenced on October 22. The Nigerian who would have been in American jail for 14 months by that date, is expected to receive a lengthy term of imprisonment of a about 20 years.