All four officers have now been charged
A memorial service has been held for murdered George Floyd at North Central University in downtown Minneapolis in the United States of America. Hundreds of people from all walks of life, including members of the Floyd's family, politicians, celebrities, captains of industries and the academia were in attendance.
George Floyd was murdered by a police officer Derek Chauvin while kneeling on his neck as three other officers watched the African American plead "I can't breathe." The gruesome killing of Floyd has sparked off protests across America and around the world. All four officers have now been charged.
In his eulogy, civil rights activist and President of the National Action Network, the Rev. Al Sharpton observed that the memorial was an unusual one because of the circumstances in which Floyd died, pointing out that he didn't die of natural causes but of the systemic racism that is prevalent in America.

The four officers charged for the murder of Floyd are L-R: Derek Chauvin, Tou Thao, Alexander Kueng, Thomas Lane
Sharpton came down hard on President Donald Trump who has been stocking the embers of the crisis by threatening protesters with military action and posing for photo in front of a church with the Bible. He was critical of the President for turning the Bible into a "prop."
Alluding to how Chauvin held Floyd's neck down, Al Sharpton lamented that African Americans have had the knees of white Americans on their necks for 400 years, and quipped, "get your knees off our necks, we don't want no favours, all we want is take your knees off our necks."
He said the protesters are out to get what "you stole from them," adding that, "this is the time to give accountability in the justice system."
Continuing, Al Sharpton declared, "we won't stop" until the whole justice system is reformed, and urged the Floyd family to keep faith in the Lord.
Those who attended the event stood on their feet for eight minutes 46 seconds, symbolising the length of time Chauvin was on the neck of George Floyd. The Reverend Jesse Jackson, Minnesota Governor Tim Walz, Minnesota Senator Amy Klobuchar, Minneapolis Mayor Jacob Frey, star actor Kevin Heart and rap star Ludacris were among several hundred people at the service.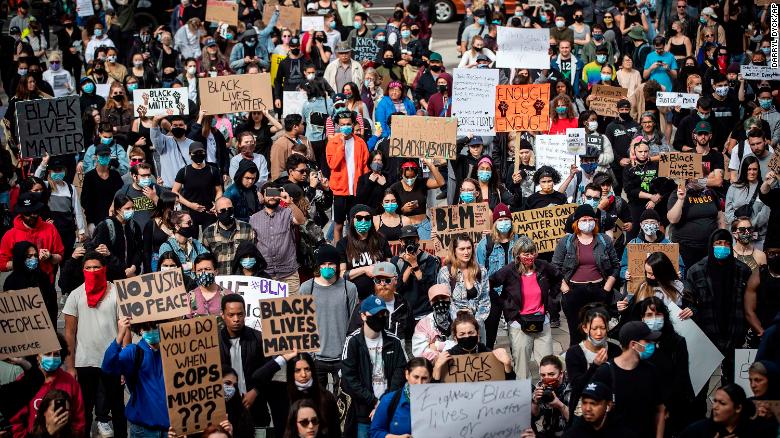 Floyd's death sparked ongoing protests across America and parts of the world
A clip that has gone viral of recent incident of racism in the US