Jerry Prince took his own life
a lot of stigma is still associated with mental health among Africans
There was uproar in Italy early this year when a 25-year-old Nigerian by name Jerry Prince took his own life at Tortona in Piedmonte. Weeks before Jerry ended his life, 22-year-old Jawo Amadou, from the Gambia, had taken his own life at a deportation centre at Castellaneta Marina in Taranto. Their deaths had one thing in common, the two Africans had fallen into depression after they were denied asylum by the Italian Ministry of Interior.
The Italian media reported Jerry as having fallen "into a deep depression," following the revocation of his humanitarian permit of stay. The two had braved the odds, traumatised, making the hazardous journey on boats from Libya. Jerry and Jawo cases are just the tip of the iceberg against the backdrop that in recent times, the African diaspora communities in Europe and America, have witnessed an astronomical rise in the incidences of mental health.
Last summer, Barba Koroma, a 17-year-old Sierra Leonean stabbed his 62-year-old father to death in Maryland, the United States. In November, 20-year-old Eyitoluwa Olayeye, Nigerian, strangulated his 48-year-old mother, Kehinde Olayeye to death. Eyitoluwa prior to taking his mother's life had just been released from Dell Seton medical center where he underwent a psychiatric evaluation for touching someone inappropriately at University of Texas, where he was a student.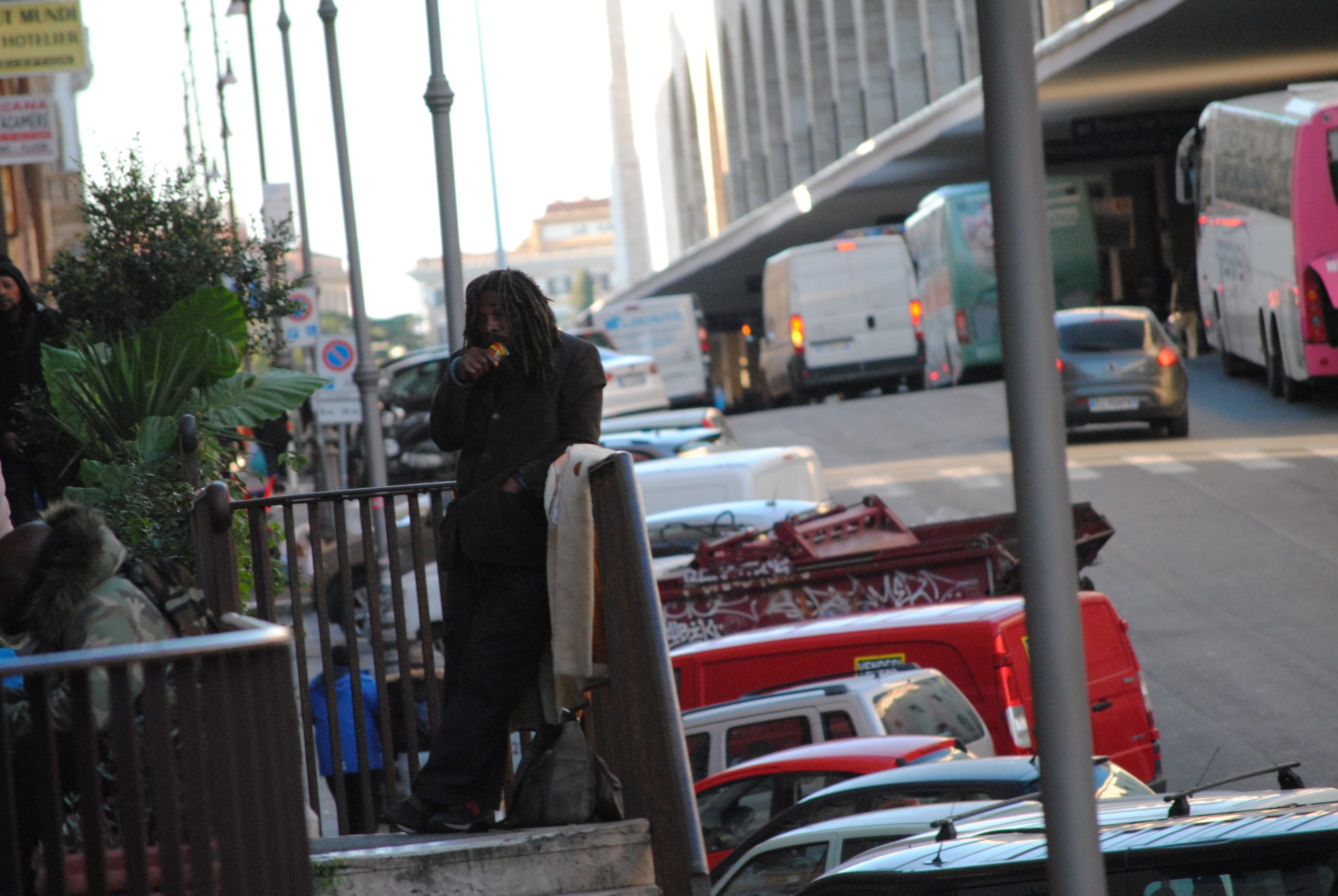 Pa loiters around the Termini in Rome
Nadifa Mohamed is Somalian, she fled her country of birth eight years ago because of the ongoing war there. Nadifa lost both parents to the war. She managed to make it to France instead of the United Kingdom her preferred destination to join a relative there. In France, she met a Congolese, Tresor Mampouya, who also fled the DRC because of the long drawn war there. They married and both managed to make the perilous journey through the English Channel. Five years ago they settled in the North West of England.
In June, Tresor while chatting with AfroLife correspondent on the challenges Africans are confronted with in the UK, lamented that his wife had fallen into depression because of all she had been through.
"The UK poses a new challenge for her, the language, culture, the fact that she's coming from conservative Somalia, she feels isolated."
Tresor confessed most times he doesn't even recognised his wife. "She's either withdrawn, or snaps up, she turns the apartment upside down, it's terrible life," lamented Tresor.
Dr Seyi Fafiolu, who has practiced medicine in the United Kingdom for decades, while responding to queries by AfroLife, said a lot of stigma is still associated with mental health among Africans. He described mental disorder as "disability of the mind that may present mental or behavioural symptoms that cause impairment."
Such symptoms could manifest as "anxiety, depression or mania, psychiatric, including schizophrenia," he stressed.
He traced the rising incidences of mental health among the African diaspora to several factors rooted in economics. "To better understand the higher incidence of mental disorder, there is the need to understand the reason they (Africans) left their home countries."
Fafiolu said majority of Africans migrating to Europe and America today are economic migrants in search of better lives.
"The inability to realise economic goals could lead to frustration that may develop into one or more form of mental disorder," and adds that, "the sense of isolation could lead to less capacity to withstand stress, leading to mental disorder."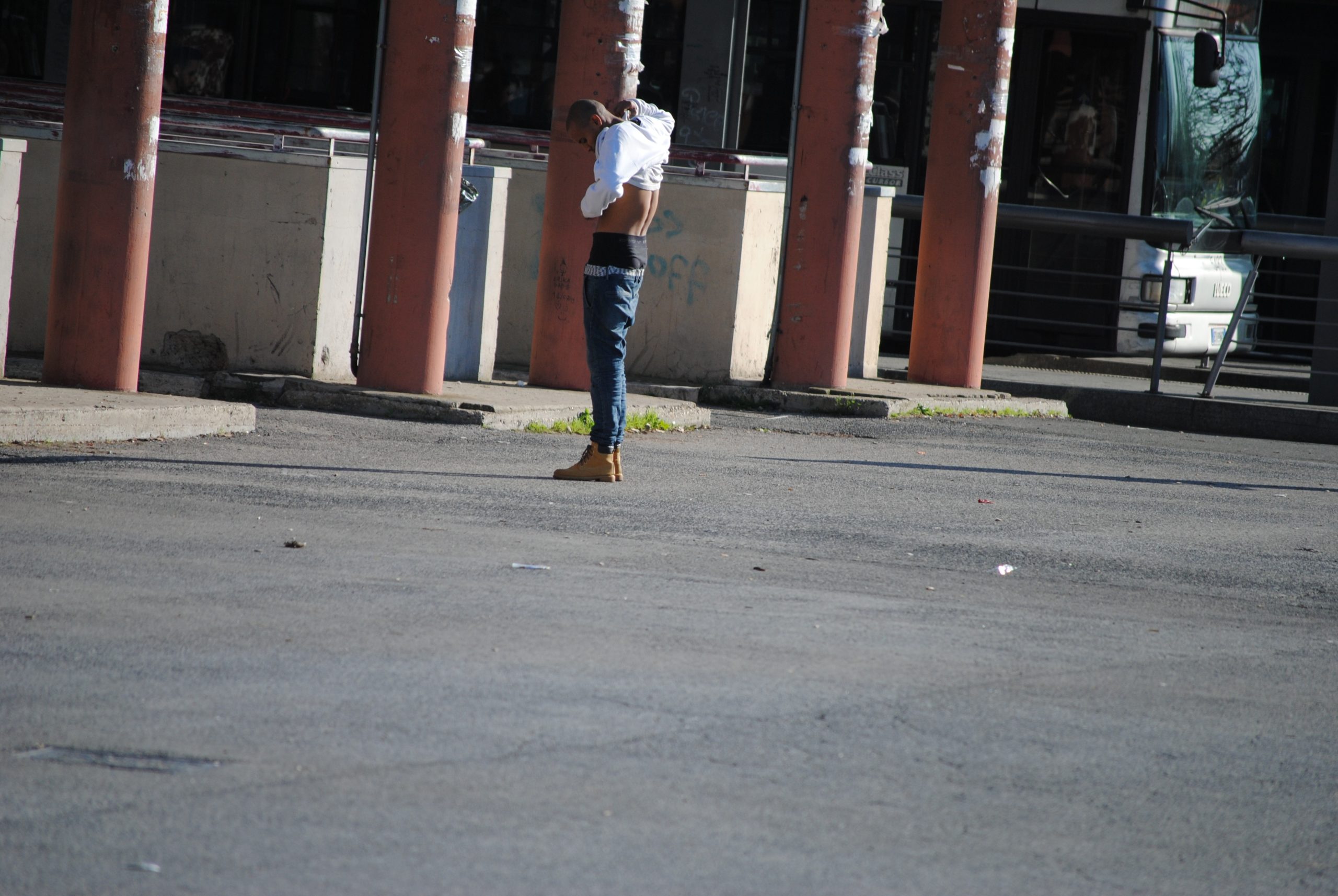 The Eritrean taking off his shirt at Anagnina
A psychiatric health practitioner in Sweden Atinuke Adeola sounded the alarm to AfroLife that Increasing barriers to migration is affecting the mental health of migrants. "In a situation where the migrant has gone through a lot of stress to escape from a troubled land to another  and upon arrival the government of the host country  refuses to grant them asylum or permit, this could trigger grievous mental health."
Lilian Pizzi, a psychologist with Médecins Sans Frontières in Rome, said, "many of the migrants and refugees we treat in our projects have already passed through traumatic experiences in their journey, in many cases with episodes of violence and torture in Libya. When they arrive in Europe they are often retraumatised by arbitrary policies that reduce their rights and by an atmosphere of hate and racism amplified by the media. And all this exacerbates a sense of powerlessness and exclusion."
It is the combination of all these factors that is playing out in the life of a Nigerian middle age man popularly known as Pa, he loiters around the Roma Termini train station looking beaten, dishevelled and unkempt. AfroLife learnt he has been in such situation over the last three years. At the other end of the city another young man from Eritrea is seen daily at the Anagnina bus terminus roaming aimless about, and hopping in and out of one bus after the other. When AfroLife correspondent tracked him down at the station, he was seen almost taking off his shirt in the early morning rush.
The mental condition of Joy, a nurse and mother of two in the United States, has been made famous by the media because she tried to force her way to the White House. The story of Joy is a pathetic one, that has amplified the urgency to beam the light on this issue.
To arrest this worrying trend, Fafiolu weighs in with the way out and suggests the establishment of "support groups for Africans to enable them share their experiences and support one and other."
Also, the establishment of mentoring schemes by diasporas for diasporas, in addition to health education on mental health problems "to reduce stigma and increase rate of detection."
He urged support for "those with identified mental health problems for treatment."
Video: Joy a pathetic story